Digital Development: PAK and ART Renew their Cooperation
Digital Development: PAK and ART Renew their Cooperation
Digital Development: PAK and ART Renew their Cooperation
Accueil

>

Digital Development: PAK and ART Renew their Cooperation
On Friday 19 August 2022 at the Head Office of the Port Authority of Kribi, the two public corporations renewed the partnership signed in 2018.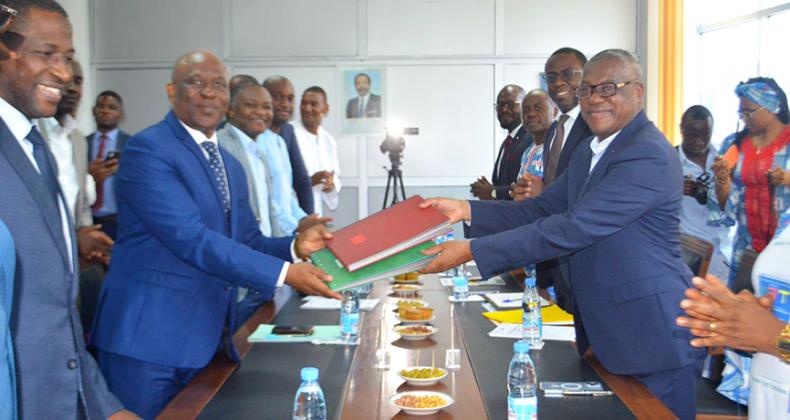 The Port Authority of Kribi (PAK) has chosen digitization and paperless procedures as a key and cross-cutting development axis since the launch of its operations in March 2018. Hence, the lookout for innovative and relevant technological solutions to its challenges and port issues. Within the framework of this permanent search for operational
excellence, PAK General Manager, Patrice MELOM, met with his peer Pr Philemeon ZO'Z ZAME, General Manager of The Telecommunications
Regulatory Board (ART).
Flanked with their respective close staffs, both managers had a meeting to renew the 4-year partnership agreement existing between their companies. Signed for the first time in June 2018 for a 3-year duration, the agreement focuses on coordinating the installation and operation of networks and electronic communication infrastructure in the area surveyed and controlled by the Port Authority of Kribi. This has enabled PAK to become an internet service provider (ISP) and to have ART's support in carrying out fibre optic private interconnections between Kribi and Mboro where the deep-sea port is located.
As new peculiarities related to the respective activities of both parties appeared, a new agreement was ''necessary for the development and attractiveness of the Port of Kribi and equally for the good functioning of the activities and missions of the telecommunication regulator in the area surveyed by the Port of Kribi'', Patrice MELOM stated.
This revamped cooperation will therefore provide room to density GSM (Global System for Mobile Communication) networks on access roads to the Port of Kribi, namely the new Kribi-Lolabè highway, to have a better tracking of homologated electronic communication equipment set up in the port area and its vicinity, to significantly upgrade the service quality thanks especially to a regular frequency scan of the Kribi Port area to localize the various sources of signal interference. This cooperation surely reinforces the port's position as smart port and equally increases its capacity to tackle future challenges, its mobility, its security, its competitiveness and its sustainability while improving on its viability and operational efficiency.
As artificial intelligence and automation henceforth have a hand in operation optimization, ITCs, as Philemon ZO'O ZAME said, '' have an impact on economic sectors'' and are ''the bedrock of our economies' competitiveness and a key growth element for our companies''. An interesting outlook that ascertains once again the top management strategic vision with digitization. These choices strengthen Kribi's reputation and their implementation called for ''the support of top ranking partners, among which ART'' as Patrice MELOM gladly concluded.