Regional response against Covid-19, the South Governor inspects the PAK mechanism
Regional response against Covid-19, the South Governor inspects the PAK mechanism
Regional response against Covid-19, the South Governor inspects the PAK mechanism
Accueil

>

Regional response against Covid-19, the South Governor inspects the PAK mechanism
Last Wednesday 29 April 2020, Patrice MELOM took Felix NGUELE NGUELE to visit Mboro's platform. This was a significant leg in the Governor's tour of the Ocean Division.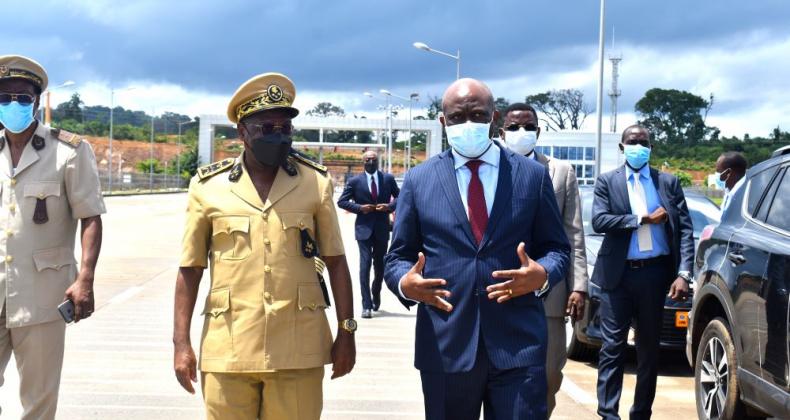 It was within the framework of the health inspection conducted by the Governor of the South Region in the Ocean Division, namely in Kribi, on Wednesday 29 April 2020. The deep-sea port obviously figured prominently in the schedule of the day's visits. First stop in the port, at the Container Terminal. Here, it was Eric LAVENU, the General Manager of the KCT Consortium who welcomed Governor Felix NGUELE NGUELE, accompanied by the Senior Divisional Officer for the Ocean, Antoine BISAGA, and Patrice MELOM, General Manager of the PAK, among others. Eric LAVENU explains to his guests that masks, gloves, hydroalcoholic gels and glasses in sufficient quantities have been made available to employees and users. Temperature checks are conducted several times a day. Physical distancing measures are strictly respected in the company's transport vehicles. Even if a general slowdown in business can be noted, the General Manager of KCT assured that services were not disrupted in spite of these restrictive measures.
The next stop was at the PAK Health Control Station, located at the Harbour Master's Office. The Governor was briefed on the cordon sanitaire set up for the accommodation of vessels. He learned that since March, all vessels bound for Kribi have been systematically boarded on roads and inspected before being allowed to berth. To date, no cases of coronavirus have been detected on board ships that have docked in Kribi. Then came the turn of the Multi-Purpose Terminal. William TCHOKOTE NGASSE, KPMO's Operations Manager, explained the protection plan in place: systematic screening of all personnel working on the quays, provision of public hand-washing spots, reduction of human contact in preference to mobile radio communication, elimination of any other relationship with the vessels other than that conducted by the stevedore.
The last act of this inspection of the port of Kribi was the debriefing session. Speaking in his capacity as Coordinator of the Response Plan, the Senior Divisional Officer for the Ocean recalled that the Crisis Committee set up in the Division and following government instructions has developed its lines of action around several points, including transport and tourism. Actions carried out in perfect harmony with the Port Authority of Kribi.
The Governor praised the decisive role played by the PAK in curbing this pandemic in Kribi in particular and in the Ocean Division as a whole. In addition to the rigorous measures taken internally and the significant support provided to the Ocean Crisis Unit, the PAK has also made a remarkable contribution through the provision of materials, drugs and equipment to health facilities, awareness campaigns in the city's neighbourhoods and chiefdoms, etc.