Development of the Port ok Kribi: Operating Contracts of the Container Terminal and Scanner Revamped
Development of the Port ok Kribi: Operating Contracts of the Container Terminal and Scanner Revamped
Development of the Port ok Kribi: Operating Contracts of the Container Terminal and Scanner Revamped
Accueil

>

Development of the Port ok Kribi: Operating Contracts of the Container Terminal and Scanner Revamped
The amendments were initialled respectively on 26 and 27 September 2022 in Kribi between the Port Authority of Kribi and its logistic partners, Kribi Conteneurs Terminal (KCT) and TransAtlantic S.A. (TSA) and aimed to strengthen he development of the Kribi Deep-sea Port.
The signing of the first amendment on the development and operation of the container terminal was chaired by videoconference by Jean Paul SIMO NJOUNOU, Chairman of the Board of Directors, and attended by high officials of the Port Authority and KCT. This amendment focused on 4 major objectives namely:
Have PAK and KCT keep the same level of competitive tarrifs despite inflation by restructuring the investment programme and by redefining traffic forecasts based on the volume and type of traffics recorded so far;
Ensure the participation of the concession holder in the funding of Phase II;
Adapt the State's commitments to the reality of the infrastructure development;
Update the terminal's operational and development plan by putting the Port of Kribi in the new post-Covid world port environment.
With this agreement, both companies mark their commitment to increase the capacity of the container terminal in terms of surface area and equipment, especially with Phase II whose construction works are currently underway in Mboro. Jean Paul SIMO NJOUNOU and Philippe LABONNE, President of the Bolloré African Logistic Group and representative of KCT, in their opening remarks, commended the results recorded so far while urging their staff to put all hands on deck to implement the provisions of the amendment.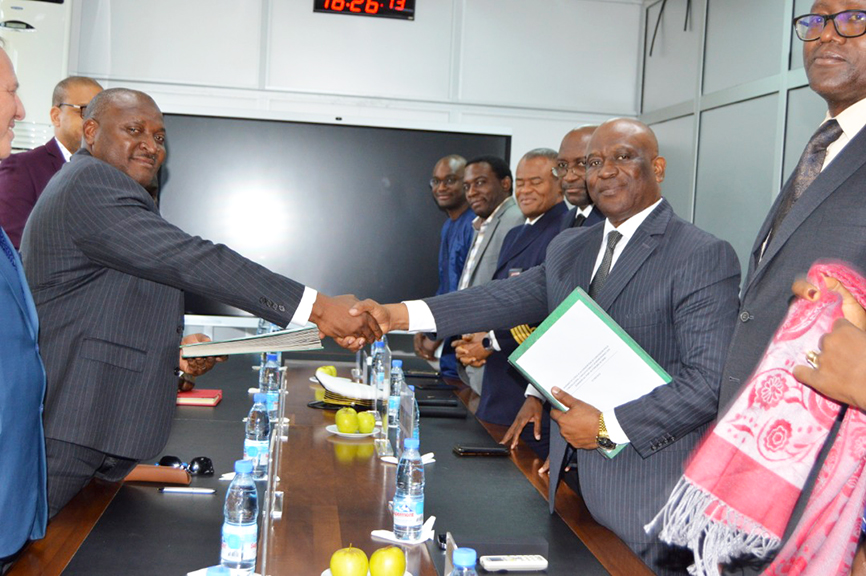 The Second Amendment aimed at the one hand to reinforce port security and enhance the Port attractiveness and competitiveness, on the other hand, namely by:
Reducing physical inspections to the bare minimum to contribute to reducing and mastering cargo transit time;
Reducing cargo destruction / stealing during physical inspections;
Contributing to having the Port comply with the ISPS Code and the US coast guard's prerequisites for potential direct export to the United States of America.
Before the symbolic and much awaited exchange of signature books between Patrice MELOM, General Manager of the Port Authority of Kribi, and Elvis CHE, TSA Managing Director, the General Manager of PAK provided a brief background on the container ''full scanning'' objective for imports and exports. He explained that ''in
order to ensure the tracking and safety of containers passing through the port of Kribi, the Government decided to put in place in Kribi a non-intrusive cargo inspection programme''. A concession agreement was thus signed in November 2019 between PAK and TransAtlantic S.A., that is two years after the Government authorized to sign with KCT the concession agreement to operate the container terminal on 27 July 2017.